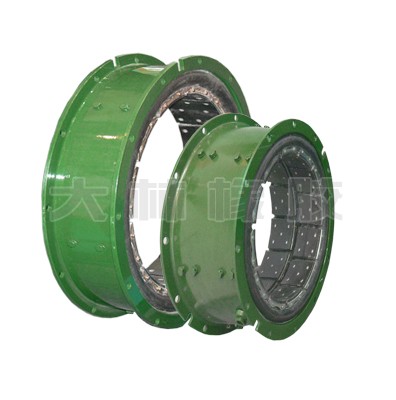 The clutch is a friction clutch with compressed air as driving force,it is generally used for the equipment that need to pass large torque or to change the director of rotation at a higher speed,such as oil drilling equipment,ship,large mechanical press,excavator,ball mill,and rubber and plastic machines,etc.
Tyre clutch can pass larger torque qith steady connection.it is convenient for for installation and can absorb vibration and compensate some angular and radial movement of the driving and driven shafts.the inertia of the driven parts is low,the service life long,the form compact,and the sealing good.the deformation resistance and the requirements for materials are high,the connecting parts mainly are friction plate and friction block,etc.
According to different structures,tyre clutch can be divided into two types-General type and ventilated type.The most distinctive difference lies whether there is an aluminum tile.
1:For general type,the friction plate of tyre clutch is directly fixed to tyre.The torque is passed by tyre.It features lower torque bearing,simple structure,low cost and convenient installation.
2:For ventilated type,the friction plate of tyre clutch is fixed to aluminum tile,and it can bear large jtorque and meantime,it has better cooling performance.